Welcome to Colossus Boerboels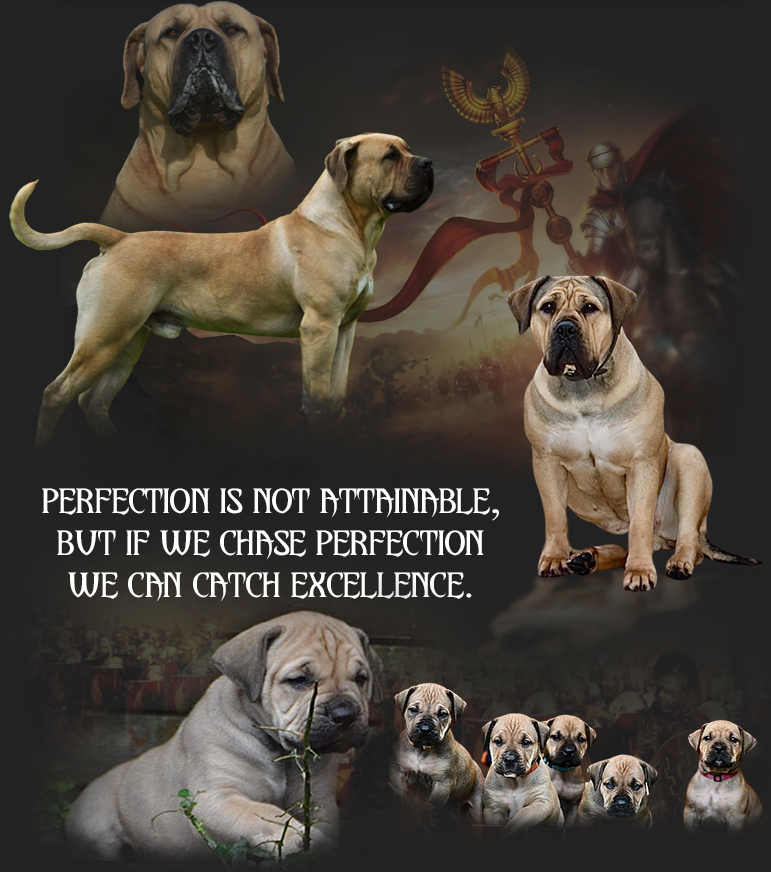 Colossus Boerboels Established in 2012 owned by John & Chrissy Singh.
We are a small Kennel, and this is strictly a hobby for us.
Chrissy & I own and manage a small commercial ventilation and air conditioning company with around 25 employees.
We are not reliant on income from our breeding's and only have about one litter a year.
Our research prior to any breeding is extensive to ensure the best possible match and the two dogs being bred complement each other.
Breeder members of SABBS The Official Organization and custodians of the Boerboel. (South African Boerboel Breeders society)
Our foundation dogs came from The Late Jenny Wells who spent many years living in South Africa, Jenny built many relationships whilst living there but unfortunately there was trouble brewing in the country, so a decision was made to come home to the UK.
Jenny was well respected in South Africa by many Boerboel breeders and i believe it was the building of these relationships that always gave jenny the edge on her Breeding Very Healthy top-quality BB.
We are very proud and honoured to own Quovadis Partner in crime (Dillon), he is a massive part of our kennel. (Bred by Jenny Wells)
We also purchased our Beautiful Girl Megazone Tessa from jenny who brought Tessa in from South Africa whilst looking for the right female to breed with Dillon. (Tessa is the full sister to Megazone Alejandra SA national grand champion 2019)
The breeding between Dillon and Tessa have proven to be Outstanding in Temperament, Health, and structure, The pups born from this breeding have given us a firm foundation.
Please visit our website for more information about us and our dogs
Perfection is not attainable, but if we chase perfection, we can catch excellence.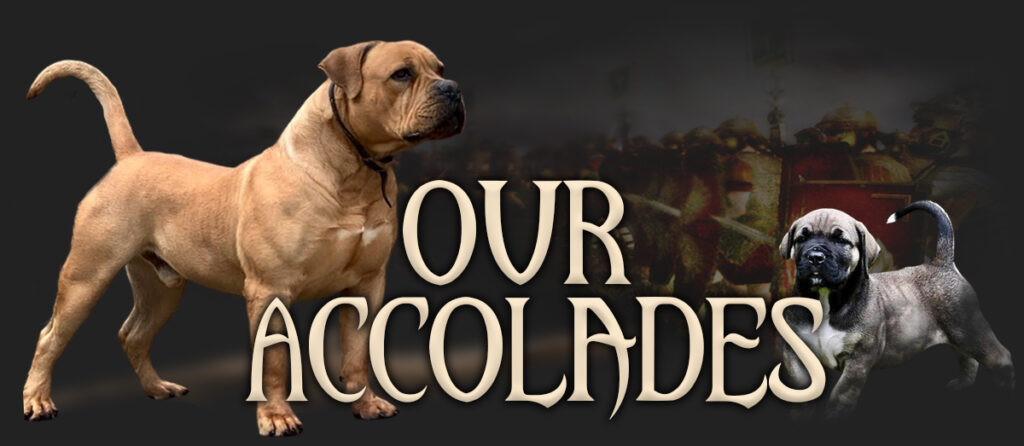 Quo Vadis Partner in Crime (Dillon)
2021 Boerboel GB Show
Adult male 2-5 years 1st place
Best dog in show
Grand Champion
UKBC
Adult male 24 months plus 1st place
Best dog
Best in show
Colossus As bold as brass (Tank)
2021 Boerboel GB Show
Junior male 12-18 months 1st place
Champion junior male
Reserve Grand Champion
Colossus Apple of my eye (Korra)
2021 Boerboel GB Show
12-18 month female
Reserve Champion
Colossus Born to be wild (Clay)
UKBC 2022
6-12 month male 1st place
Best dog
Best puppy in show
Colossus African Flower, Bella
Boerboel GB Show
12-18 Month Female 3rd place
Colossus As good as Gold, Mr T
UKBC
Junior Male 18-24 months 2nd place
Colossus Bees Knees, Jenny
UKBC
6-12 Month Female 2nd place
Colossus Baby Face, Lola
UKBC
6-12 Moth Female 3rd place
Colossus Bell of the Ball, Pickle
2022 Boerboel GB Show
9-13 Month Female 2nd Place
Junior Female Reserve Champion