Ashford dog escapes from garden during fireworks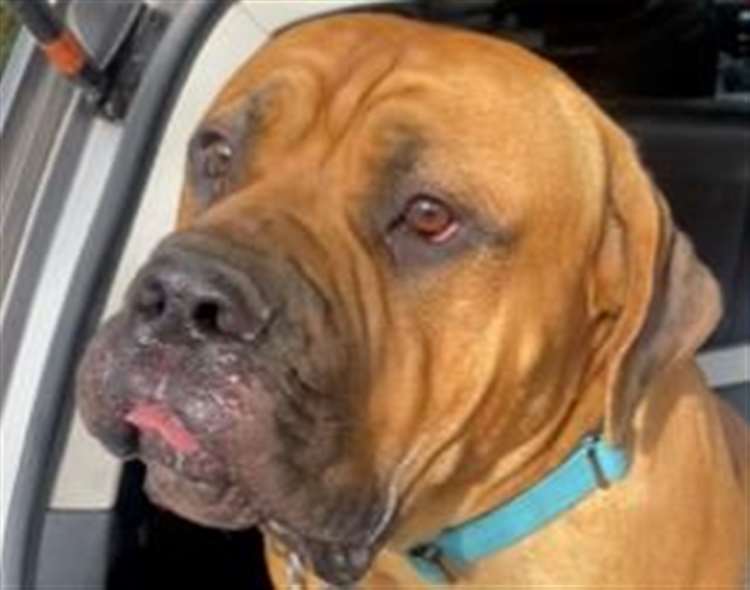 ---
Ashford dog escapes from garden during fireworks
A 15-stone puppy which escaped from a garden after being spooked by fireworks at the weekend is still missing three days later.
Anxious owner Joe Booth from Ashford has been desperately searching for Harry, a 13-month-old South African Mastiff, since the dog bolted from Stubbs Cross on Saturday night.
Mr Booth thinks Harry might have headed towards Shadoxhurst or Hamstreet to find shelter in the rain and is asking anyone in the area to keep an eye out.
"He has never left the garden before or been worried by anything, but he can be a bit timid," explained Mr Booth.
"There is a hole in the fence which has been there for some time but it has never bothered him before, but this time he decided to just go and unfortunately I still can't find him.
"He's a 15-stone mastiff, he's a big boy but a scaredy-cat.
"We have been out with thermal imaging cameras to no avail unfortunately.
"With the bad weather, we think he might have gone into the woods to try and hide from the rain because he hates water.
"Everyone is entitled to enjoy themselves with fireworks, I like them myself, it's just one of those things a lot of dogs are scared of.
"Maybe I should have locked him in the house but he is usually free to roam in and out as he pleases. That's how I like it.
"But instead of hiding in the house, he decided to run off."
Mr Booth, who races a Subaru Impreza in the British Rallycross Championship, has had Harry since the dog was 10 weeks old. The pup shares the garden with big sister Karma who is almost two.
While Harry is a very "affectionate" and "loving dog", anyone who spots the mastiff is urged not to approach – as the pup can be wary around new people.
Instead call Mr Booth on 07912 229698 as soon as possible.